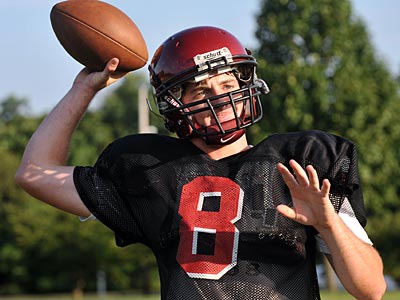 (Photo courtesy of Philly.com)
According to Rick O'Brien of Philly.com, St. Joseph's Prep QB Skyler Mornhinweg will choose to attend Penn State this afternoon in a conference call scheduled for 2 p.m.
The son of Philadelphia Eagles offensive coordinator Marty Mornhinweg, Skyler originally commited to Stanford during his sophomore season, but decommited when head coach Jim Harbaugh left to take the San Francisco 49ers job.
The 6'3'', 215 pound signal caller is ranked as the #44 QB in the class of 2012, via his Scout.com page. He becomes the 11th player of the 2012 recruiting class for the Nittany Lions, and the second skill position player, joining TE Jesse James.