Even with conference realignment sending college sports into a frenzy, Penn State is safe in the Big Ten.  Still, one may be confused about which conference the Nittany Lions are in as they take on their second consecutive  Mid-American Conference opponent in Eastern Michigan.  Here to help us get familiarized with the Eagles is Theodora Robinson-Jones, Sports Editor for the Eastern Echo. 
NLD: Eastern Michigan won two games over the past two years, but has already matched that number this year thanks to a strong running game.  What makes this Eagle rushing attack so potent?  Will Dominique Sherrer, who had over 100 yards in the first two matches before being held out against Michigan last week, be healthy to play?  How much was he missed against the Wolverines?  If he is not available, who will pick up the slack?
Eastern Echo: The strength of EMU's running game comes from a combination of a great offensive line that creates nice pockets as well as explosive runners. Dominique Sherrer will probably not play much on Saturday, if at all. He was on crutches for a couple of days last week and it seems like the coaching staff is going to play it safe and hold off until MAC play for him. Expect to see a lot of Javonti Greene, who started in place of Sherrer last week. He's a sophomore who, after the game against Michigan, now leads the Eagles rushing game with 346 total rush yards.
NLD: The Eagles attempted only five passes last week after averaging twenty in each of their first two games.  Why do you feel they made this change for Michigan?  Was it successful?  Are you expecting another run-heavy game against the Nittany Lions?
EE: Deciding to stick with the running game wasn't much of a change, that's pretty much all we've seen out of the Eagles this season, which could be attributed to a lack of confidence in the receivers. It was not successful in any way, it left us predictable and, therefore, vulnerable to the defense but I am expecting to see much of the same this Saturday. However, with Kinsman Thomas back after a 2 game suspension (violation of team rules) he's a weapon that could be used if the Eagles do look to their passing game, along with Nick Olds and tight-end Garrett Hoskins.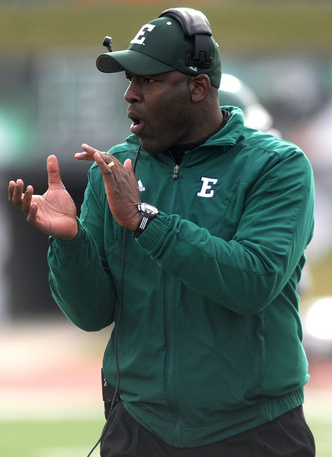 NLD: Enough talk about the offense.  Ron English has always been a defensive coach, and that showed during the first two weeks of the season.  EMU held both Howard and Alabama State to single-digits on the scoreboard, and held ASU to a mind-boggling -13 yards rushing.  What is the biggest strength on this defense?  If there is one weak area, where is it?
EE: I would have to say that EMU's defensive strength would be in the tackling. English said in a press conference that the team only had a couple of days when the tackled during camp but the defense has had some stellar tackles. Also, compared to the past 2 seasons, the Eagles have built up quite a bit of stamina on the defensive end. They used to have a problem closing out games and keeping up with bigger teams through out every quarter, but this season, the last 2 games in particular, the defense has kept up and stayed with teams until the end of the game. As far as weakness goes I would say this weekend it will be the size of the Eagles. I think that of anything else, the fact that they are much smaller than the Nittany Lions it will present a problem in tackling as well as stamina.
NLD: I cannot figure out how to understand the Eagles first half last week at Michigan.  On one hand, they outplayed Michigan and took the ball deep into Michigan territory on each of their first five drives.  On the other hand, they turned those drives into only three points.  How do Eastern Michigan fans feel about that game?  Did it seem like the Eagles were intimidated by the Big House?  How much will that experience affect them as they travel to second largest stadium in the country this weekend?
EE: I think that Eastern fans and students took the game as just another loss to a Big Ten team. I've heard some comments of "if only we could have scored on those first few drives," but then I've also heard the "well what did you expect?" comments. So, some mixed feelings about it but I think that comes from the fact that this team has a lot to prove to its student body. The players are confident in what they can accomplish but I most people are still stuck in what has happened in the past few years. I don't think EMU finds the Big House intimidating at all, a lot of these players have played in there before and we certainly didn't have the star struck demeanor that they had in the Big House 2 years ago. I think that it was more a matter of trying to find something else that works for the offense, a search for a consistent passing game. That being said, I don't think the size of the stadium or crowd will have much of an impact on the team this Saturday.
NLD: Time to wrap this up.  What are some closing thoughts on Eastern Michigan's upcoming bout with the Nittany Lions?  What do the Eagles need to do to upset Penn State?  Finally, would you like to venture out and give us a score-prediction?
EE: If the Eagles are to win this Saturday they will have to find some kind of pass game, they cannot continue to rely on their running backs alone; a receiver is going to have to step up at some point. I think if the defense holds true to what they've been doing this season and we are able to switch it up a little bit on offense there will be a fighting chance for the Eagles. Oooo score prediction, I'm not good at these so charge it to my head if I'm WAAAY off but I would say 45-13, Penn State, but Ron English-Joe Paterno arm wrestling tournament, 10-0 English.